Pick your colour.
Make your move.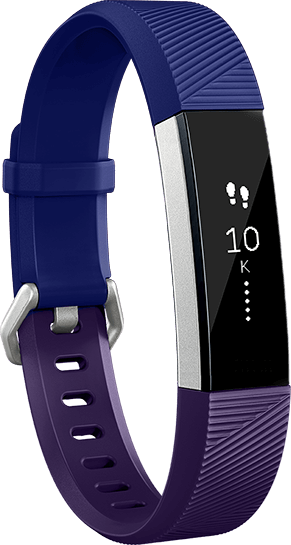 Find adventure in every step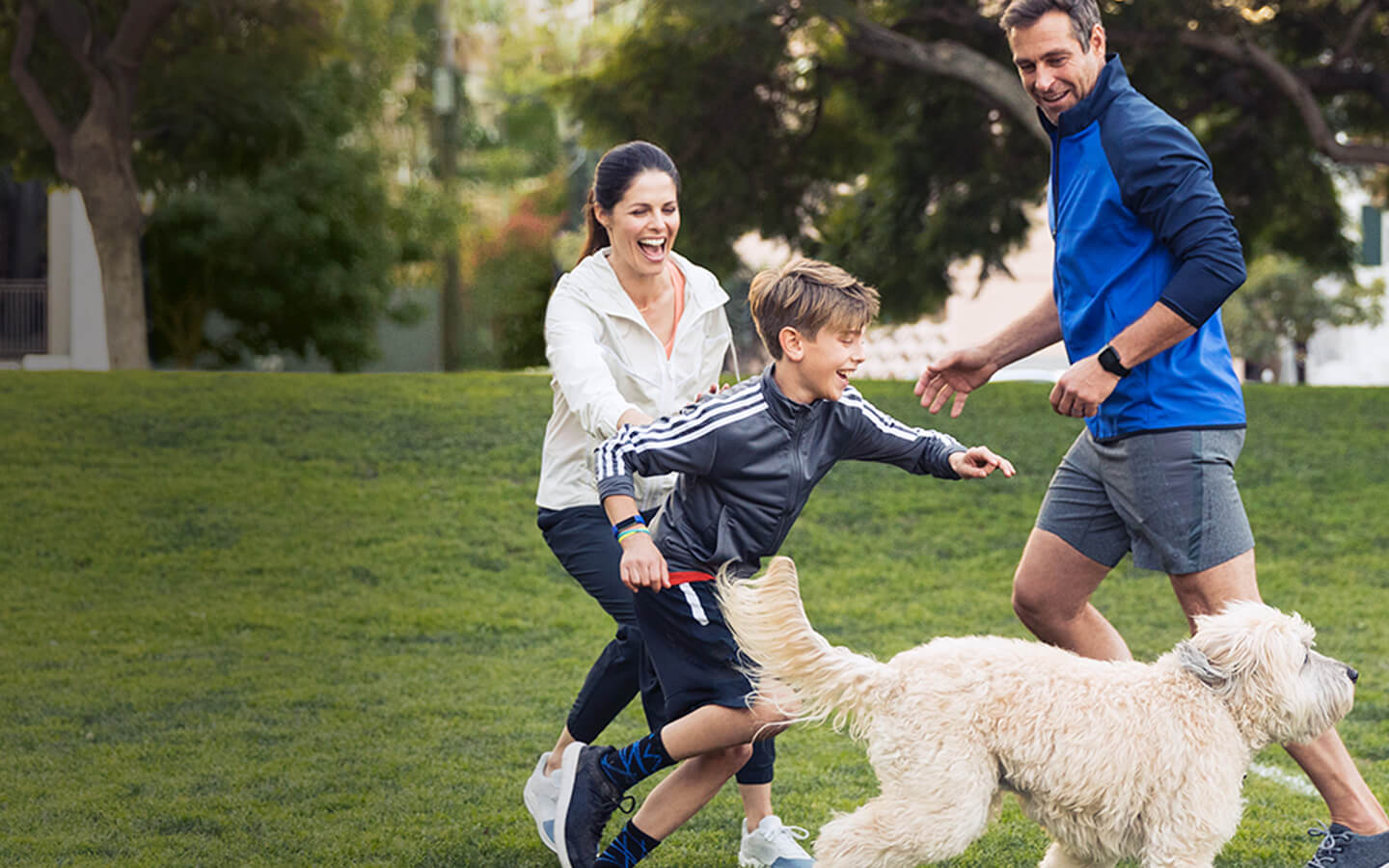 Tracks activity, day and night
Fitbit Ace tracks steps, active minutes and sleep and shows stats on a bright, easy-to-read display.
Goal celebrations and badges
Children receive celebration messages when they hit their daily goals and collect virtual badges when they reach big milestones.
Reminders to Move
Turn on these friendly reminders in the app to encourage kids to stay active all day.
Helps kids move more
Ace motivates kids to reach the recommended 60 minutes of daily activity.*

Designed for young, active lives
Built with a battery life of up to five days, an adjustable band and more.
Kid-friendly design
Showerproof Survives splashes and spills
Battery life of up to five days**
10 fun clock faces to choose from
Adjustable band size

Keep the family connected in the app
Fitbit's new family account feature makes it easy to see everyone's progress while keeping information private.
One child account, two views
Parents can check in
Under the family account, parents create an account for their child where they can view their kid's activity.
Kids can track their stats
Kids access their account through a secure Kid View, where they can see their progress, badges and more.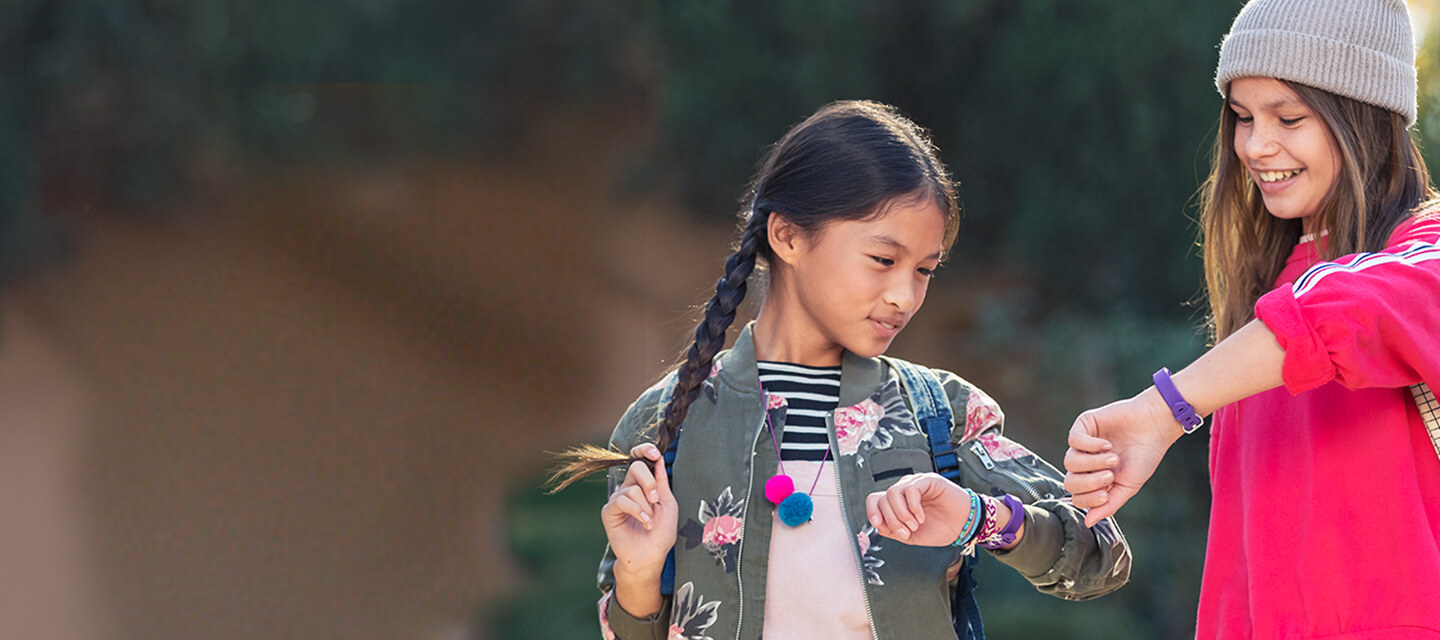 Spark friendly competition
Step challenges
Children can go head-to-head with others in step challenges and compete to win virtual trophies.
Compare with friends
Fitbit Ace lets children compare stats with their friends, right on their wrist!
Messages & cheers
For extra motivation, kids can exchange messages and cheers with family members in the app.

Better sleep? Yes, please!
Good sleep habits play a critical role in a child's health and well-being.† Fitbit Ace lets you know if they're getting the rest they need.
Gain insight into every night
Track sleep duration and sleep schedule
Set bedtime reminders in the app
Set a silent vibrating alarm
FEATURES
ACTIVITY TRACKING Tracks your child's daily steps and active minutes.
REWARDS & BADGES Acknowledges goals and milestones with fun celebration messages and badges.
SET ACTIVITY GOALS With customisable step and active minute goals, Fitbit Ace gets kids moving and makes it fun!  SHOWERPROOF From puddle jumping to lunchtime spills, Ace can handle whatever your child gets into.
STEP CHALLENGES Children can stay motivated by challenging others to step competitions in the Fitbit app.
SLEEP TRACKING Ace tracks your child's sleep duration, sheds light on their ZZZ's and encourages good bedtime habits.
BATTERY LIFE Battery life of up to five days so kids can spend less time charging and more time moving.**
CLOCK FACES With 10 fun clock face designs that show the date, time, goal progress and more, kids can choose their favourite style.
REMINDERS TO MOVE You can turn on Reminders to Move notifications – friendly on-screen messages encouraging children to stay active all day.
FITBIT APP: PARENT VIEW Parents set up a family account and then create an account for their child where they can view activity and progress.
FITBIT APP: KID VIEW Children can see their stats and badges and change their clock faces in the app through a secure Kid View that can be turned on and off from the family account.
TRACK PROGRESS Ace automatically syncs to iOS, Android and Windows devices so you can track your child's activity trends over time and see how small steps make a big impact!
TECHNICAL SPECS
WHAT'S INCLUDED Fitbit Ace tracker Ace classic wristband Charging cable
SENSORS & COMPONENTS 3-axis accelerometer Vibration motor
DISPLAY OLED tap display
BATTERY AND POWER We recommend charging Ace every few days to ensure you are always tracking. Avoid using third-party chargers. Battery life of to five days. Battery life and charge cycles vary with use, settings and other factors; actual results will vary. Battery type: Lithium-polymer Charge time: One to two hours Radio transceiver: Bluetooth 4.0
MEMORY Saves seven days of detailed motion data – minute by minute. Saves daily totals for the last 30 days WATER RESISTANCE Ace is rain, sweat and shower proof (IPX7), but not swim proof. Make sure that you rinse and dry Ace after kids shower in it – it's best for their skin if the band stays dry and clean.
CARE If your child gets Ace wet or sweats in it, remove and completely dry the band before they put it back on. Make sure that kids take the band off every now and then and regularly clean the band and the wrist area around it with water. Do NOT use hand soap, body soap, dish soap, hand sanitisers, cleaning wipes or household cleaners, which could get trapped beneath the band and irritate skin. Children with eczema or a skin condition should talk to a doctor before wearing. Learn more.
MATERIALS The Fitbit Ace wristband is made of a flexible, durable elastomer material similar to that used in many sports watches. The Ace tracker and clasp are made with surgical-grade stainless steel.
ENVIRONMENTAL REQUIREMENTS Operating temperature: -10° to 45° C Maximum operating altitude: 9,114 metres SYNCING & NOTIFICATIONS Using Bluetooth LE wireless technology, Fitbit Ace syncs automatically to iOS, Android™ and Windows 10 devices. Certain features may require Android 5.0+. Look up your device to check compatibility. Syncing range: Up to 6.1 metres Syncs with Mac OS X 10.6 and up, iPhone 4S and later, iPad 3 gen. and later and Android 4.3 and later.