Novation - LaunchKey Mini MKII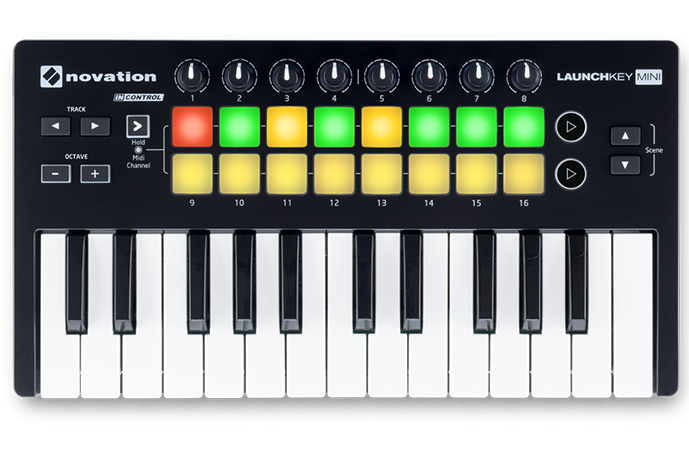 NOVATION LAUNCHKEY MINI MK2 KEYBOARD CONTROLLER
For the ultimate in portable and compact production, the Novation LaunchKey Mini MK2 Keyboard Controller punches well above its weight. With velocity sensitive keys, masses of assignable controllers and the ability to work with PC, Mac and iOS6 (or greater) devices, the LaunchKey Mini MK2 delivers huge value for money.
At the heart of the LaunchKey Mini MK2, you will find 25 velocity sensitive mini keys, the bonus here is that other controllers that use mini-keys may be lacking in touch sensitivity, which will have a massive impact on your expression and creativity.
Whether you are using the LaunchKey Mini MK2 to play classical instrument parts, or to lay down dirty synth or basslines, every nuance of your playing style will be faithfully recreated.

ASSIGNABLE CONTROLLERS
The LaunchKey Mini MK2 was optimised to work seamlessly with Ableton Live, however thanks to the amount of assignable controllers, it's able to to control any DAW you wish including Reason, FL Studio, Pro-Tools, Cubase and more. 8 rotary encoders can be used to control filters, volumes, tempo and any other assignable functions.
Further to this, the LaunchKey Mini MK2 comes with track -/ buttons to easily navigate through your song and octave shift buttons so that you easily have access to a full playing range that you would get with a larger keyboard.

COLOUR CO-ORDINATION
One thing that will instantly catch your eye on the Launchkey Mini Mk 2 are the 16 RGB backlit velocity-sensitive pads. Use these to colour match to your clips for easy triggering of percussion sounds and scenes, ideal for clear direction in the studio, or for guidance when performing at darker venues.

READY FOR ANYTHING
The LaunchKey Mini MK2 is class compliant and USB powered meaning that as soon as you connect it to your PC, Mac or iOS6 device (via optional camera connection kit or USB to lightening cable), it will be ready to work for you, no drivers needed.
Finally, Novation have included a copy of Ableton Live Lite 9 as well as bass station and V-Station virtual instruments, and a comprehensive 1GB collection of production-ready samples from world-leading sample store Loopmasters making this a one-stop purchase to begin making some serious quality music. Begin your creation journey today, with the Novation LaunchKey Mini MK2 Keyboard Controller.

The Mini Keyboard for Ableton Live
Launchkey Mini is our most compact and portable MIDI keyboard controller. It may be small, but it gives you everything you need to create new tunes in Ableton Live without cluttering up your desk.
 

Easily Make Music
We designed Launchkey Mini to make it easy and fun to produce music in Ableton Live. All the controls work as soon as you plug it in, and they're arranged in the layout we think works best.
We put 16 pads along the top, which you can use to launch clips and play beats. They light up to show you when clips are loaded, playing and recording and we laid them out to match your Ableton Live session view; one row to launch clips, and one row to stop them.
You can also easily tweak your instruments using eight high-quality knobs, and sketch out ideas on a 25-note mini keyboard with a fast synth-style action that makes it really nice to play.
 

Get Started Immediately
Launchkey Mini integrates immediately with Ableton Live, FL Studio, Pro Tools, Reason, Cubase and Logic without any mapping whatsoever. It also comes with everything you need to start making music, including Ableton Live Lite, Novation Bass Station and V-Station virtual instruments, and 1GB of samples from Loopmasters.

Take It Anywhere
Launchkey Mini is compact and tough enough to throw in your bag, so you can use it anywhere. It will work the moment you plug it into your laptop and you won't need any drivers or power cables, because it's class compliant and bus-powered via USB.
 

Loopmasters
Now expanded from 1GB to a whopping 4GB, the Loopmasters sample library included with every Novation Launch, SL and Impulse keyboard is packed with professional quality, royalty-free loops and one-shots, plus three fully multisampled Simpler-based instruments for Ableton Live 9: Acoustic Piano, Electric Piano and Organ.
Encompassing all contemporary genres – from blues, funk and hip-hop to bass, techno and all flavours of house – and taking in a huge range of electronic and acoustic instrumentation, it's everything you need to start making music today!
 

Key Features


Easily Produce and Perform
25-note velocity-sensitive mini keyboard, with fast synth-style action.
 

Designed for Ableton Live
All the controls are laid out intuitively and work immediately.
 

Play Loops and Create Expressive Beats
Trigger clips and play drums using 16 velocity-sensitive multicoloured pads.
 

Take it Anywhere
Compact and tough enough to throw in your bag without needing a power cable.
 

Shape Your Sound
Tweak your instruments and effects or freely re-assign using eight high-quality knobs.
 

Control All Major Music Software
Get automatic hands-on control of other DAWs, including FL Studio.
 

Plug In and Play
USB bus-powered and totally class-compliant, so it works straight away without any drivers.
 

Make Music Immediately
Includes Ableton Live Lite, Novation Bass Station and V Station virtual instruments plus 4 GB of Loopmasters samples.
 
Tech Spec
Product Hardware Specifications
25 note velocity sensitive mini-key keyboard
16 multi-colour backlit velocity sensitive drum pads
8 knobs
2 octave buttons
2 track buttons
2 navigation buttons
InControl button
2 multi-colour backlit round buttons
Micro USB socket
Kensington security slot
Software Compatibility
Ableton Live Lite 9 is included 
If you already have Ableton Live it must be version 9 or greater to work with Launchkey Mini. We recommend that you update to the latest version as previous versions of Ableton Live do not include the Launchkey Mini integration for InControl. Launchkey Mini will also work as a standard MIDI controller.
Novation Launchpad app requires:-

iOS 6 or greater
iPad 2 or newer
Camera connection kit or lightning to USB camera adapter (not included)
Power Requirements
Fully USB bus powered, including iPad
Product Dimensions
325mm width x 175mm depth x 43mm height
OS Compatibility
OS compatibility not relevant for this product range/type